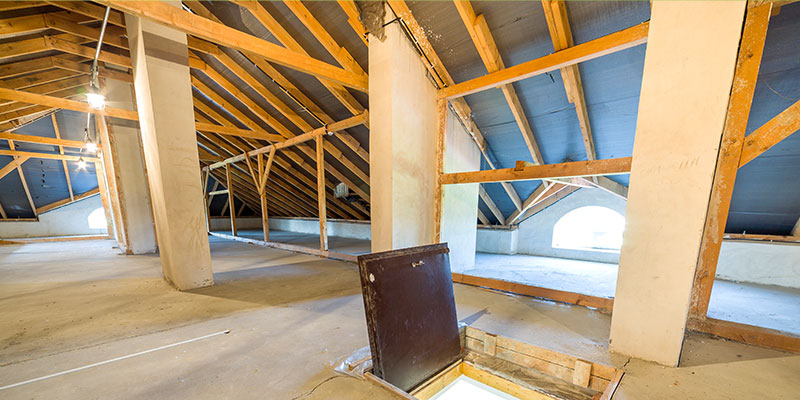 How can you use Spray Foam for Roof and Attic Insulation?
It is no surprise that, typically, most of the heat loss in a home is through the attic, this presents a golden opportunity to insulate your roof and attic with spray foam in order to minimise heat loss and maximise the heat available in your home. When you have a lot of heat loss, your energy bills are higher, you spend more money to keep your home warm every month and your bills can start to pile up. Constantly running your heating is not a solution to your problem of a cold house, however, insulating your attic and roof with spray foam could be. Instead of excepting high energy bills every month, you could put a stop or reduce the amount of heat loss, allowing you to rely less on heating your property, saving you money on your monthly bills.
One type of insulation can be used to cover your entire loft and roof, insulting it for maximum potential of retaining heat and relying less on energy bills. We endorse the use of spray foam insulation and believe that this insulant can be the solution to your problem of having a cold house and succumbing to high energy bills. So how can you use spray foam to insulate your roof and attic?
Roof Insulation
Did you know that uninsulated homes can lose up to 25% of heat through their roofs alone? Therefore, all the heat generated from heating your property, you are likely to lose up to 25% of it through an uninsulated attic and roof. Something so simple such as roof insulation can drastically reduce this figure and provide your home with a more efficient system, better living conditions and cheaper energy bills.
Depending on your type of roof and your type of attic or loft, you make opt in for a different type of insulation, you can choose cold loft or warm loft insulation, you can choose to insulate the attic floors alone or the rafters in your roof. The impact of your insulation will boil down to the insulation you use, the areas you apply the insulation to and the size of your roof. Nonetheless, if your attic is not insulated, this should be a priority for your home.
Spray Foam Insulation for Roofs
You can apply either open cell foam or closed cell foam insulation to the underside of the roofs sheathing, which will provide a superb, insulated attic space which is not only durable but efficient in all different types of climate. Depending on your type of roof, the complexity and more, you may opt for different types of insulation. For example, you can completely insulate your roof on a budget of as little as £200, using traditional mineral wool rolls. Whereby they may not be the most effective, they can get the job done.
On the other hand, using an insulant such as spray foam, specifically open cell spray foam, you can make sure that your roof and attic is completely insulated, every nook, cranny and crevice, stopping unnecessary heat from leaving in winter and helping to cool down the space throughout summer. When insulating a roof, spray foam has an advantage over other insulants by providing a complete and effective air seal.
Attic Insulation
Alternatively, you can reduce the amount of heat loss through your roofs by effectively insulating your attic area, more specifically, the floors. Heat escape through the roof can be pre-emptively prevented by having sufficient attic floor insulation. However, if you have a renovated loft, it may be best practice to look into insulating both the attic floor and at a roof level. Insulating your loft or attic can be completed by focussing on the joists. Simply, by placing insulation in the joists of your loft, you can provide a sufficient level of insulation to minimise the percentage of heat loss through the roof.
Spray Foam Insulation for Attics
You can effectively use spray foam to insulate attic floors and there are many benefits as to why you should do this. If your attic is an unused space, maybe just for storage, then, by insulating the attic floor, you stop the heating generated in your living spaces below from rising through the attic floor (your ceilings) and, ultimately through the roofs and out your home. You can simply apply spray foam insulation in the floor joists, creating an excellent layer of insulation reducing the rate of heat loss. This type of insulation is known as cold loft insulation.
Because spray foam insulation has high R-Values, it can be considered as one of the best insulations on the market today, with high effectiveness of thermal resistance. Additionally, due to the application of spray foam, it is easily sprayed in and covers the entirety of the floor. Insulating the attic floorboards as oppose to the rafters in the roof is also beneficial because your floor takes up less space, requiring less insulation which, ultimately, reduces your insulation costs.
However, if your loft space is or will be used as a living space or a common area for people, then it is recommended to also insulate the rafters in your roof and attic to create an optimal living temperature in that space, and to stop heat escaping at a roof level as oppose to solely an attic floor level. Spray foam is a great insulation product for your roofs, attics and lofts and should definitely be considered when you plan your insulation project.
Ask the Insulation Experts
If you are starting an insulation project in your loft or for your roof and need a free consultation, you can contact us for expert advice. Our team has over two decades of insulation experience and has helped thousands of customers across England. We are accredited and approved Icynene spray foam insulation installers and work with the very best products for optimal results. If you are interested, you can contact us today at www.sprayfoam.co.uk/contact.html or call us directly on 0203 411 5188 for more information.