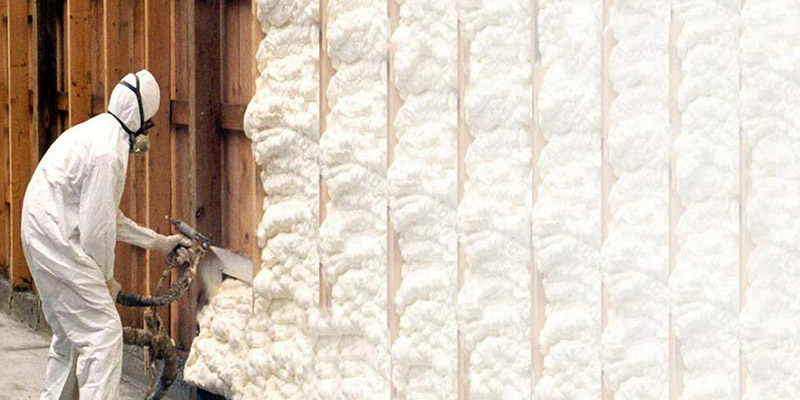 5 Reasons why you need Spray Foam Insulation
Spray foam insulation is a modern and superior form of insulating material. Typically, spray foam has two types: open-cell foam insulation and closed-cell foam insulation. Each type has its own benefits that can help your residential or commercial property become insulated. With England winters rapidly becoming colder and England summers ever-increasingly becoming warmer, using the correct forms of insulation can help you combat the nasty colds and swarming heats. Investments in insulation aren't a week, month or year long service, but, with Icynene spray foam insulation, when your property has been insulated with this, it lasts as long as a properties general lifespan (estimating up to 30 years). Spray foam is unique in it's application, from a simple spray gun that rapidly expands, providing optimum protection for your house or commercial property. There are a copious amount of benefits of spray foam insulation, below we have listed our 5 main benefits.
1) Superior Winter Insulation
Icynene spray foam insulation is, arguably, the highest quality insulating product on the market today. A big part of this is due to its closed-cell type capabilities that can immensely insulate your property throughout winter, keeping the cold at bay. Closed-cell insulation is highly dense, allowing for a robust insulating material, water impervious while blocking moisture and mould growth.
R – Value: The R-value generally means that the thicker the insulation, the more efficiently you can keep your property comfortable throughout winter. The higher the R-value of an insulating material is, the greater ability it has, to resist the transfer of heat and spray foam insulation has a superior R-value and one of the highest available on the market today up to an incredible 16.5 centimeters thick. This creates a perfect product to keep your home or office cosy and warm across winters.
2) Breezy Summer Insulation
Now, you may be thinking that if your home is so heavily insulated for winter then your home in summer will be incredibly hot. Well, we can happily tell you that you are wrong. Open-cell spray foam insulation acts as a breathable insulating material allowing for breathability and flexibility. This less dense and rapidly expanding form of insulation has the ability to reach the hardest of areas in your property, therefore, it is able to completely insulate the whole desired area and usually with only a single coating. Due to its breathability and lightweight components, this insulation type will reduce your reliance on air conditioning units and cooling fans, allowing for a natural cooling of a house, office or building.
3) Cost Benefits – Return on Investment
It's no surprise that as winters in England become colder and summers becoming hotter that gas and electricity bills are on the rise. Well, using our spray foam insulation product you will use less central heating throughout winter and fewer cooling agents across summer because your house will not need it as much. With the reduction of usage of these appliances your heating and cooling bills may see a reduction in costs of up to 50% a month! Over the course of a few years you will be able to see a complete return on investment from your spray foam insulation and once you've saved your money from your investment, you begin to start making profit through not paying as much for your heating and cooling bills. Due to the sustainability of the product, you will have a robust money-saving insulation in place for as long as a houses duration, saving you money and energy consumption every step of the way.
4) Environmental Benefits
We have already touched upon the reduction in heating and cooling agents due to the superior spray foam insulation product, therefore, in turn, your carbon footprint will be a lot lighter. You will be lessening your carbon emissions into the atmosphere because your energy consumption will be much lower. Additionally, the actual product itself is harmless, 100% water blown, odourless and contains zero harmful gases. This spraying agent is the perfect way to save money and help the environment.
Moreover, the air condition of your home or property will become cleaner and healthier, with the spray foam material preventing passing of harmful gases, preventing mould growth, dust and other pollutants from outside from entering your home or commercial area. In fact, the Icynene spray foam insulation is such a superior product it has actually helped to shape the European standards of insulation.
5) Superior Product
The actual product details of spray foam insulation make this product the go-to insulation for all to utilise. The fact that it has sustainable features that allow it to last as long as the typical home (around 30 years) ensures to consumers that it is a high quality, robust and long-term investment of a product. Various foam options, open-cell and closed-cell provide various benefits that can be utilised across your property. For example, open-cell foam insulation has more benefits when insulating attic floors and roof lines and walls for soundproofing, whereas closed-cell foam insulation is superior for exterior applications, commercial properties, resisting harsh weather areas, basements and more. A combination of both these products will create a perfectly insulated property.
Conclusion
There is no doubt that spray foam insulation is a magnificent product and it can answer all of your insulating needs, addressing all of your insulating concerns. With a variety of main benefits, such as: saving money, increasing internal air quality, lowering carbon emissions, sustainability across all weather seasons, this product is your answer to your insulation troubles. We have listed our five key benefits of spray foam insulation, however, there are many more that you will notice once you've implemented this material in your home or commercial property.
Contact info@sprayfoam.co.uk today to receive a survey for your home or commercial property and let our experts best help you with your insulation needs. We are EcoSpray-Foam Systems and we provide high quality insulation services across England.