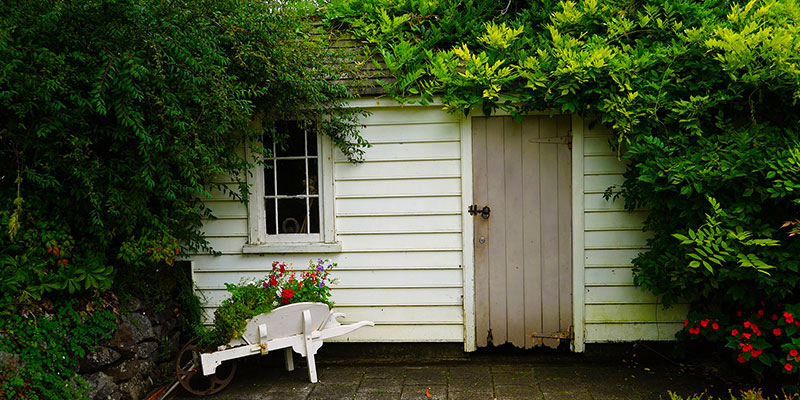 UPDATED 25/10/2021
The Benefits of Spray Foam Shed Insulation
A lot of homes in the UK have a shed, whether it's located at the end of their garden or at an external location. Sheds can have a variety of functions, from serving as a store room to an external office. Yet despite this, shed insulation is commonly overlooked, and is not viewed in the same way as home or residential spray foam insulation.
However, given that there are many benefits of insulating a shed, we strongly recommend doing so. From prolonging the life of your shed, to regulating its temperature, the gains you can make here are invaluable. We especially recommend using Eco spray foam insulation due to its ease of application and quality specifications. So, let's take a look in more detail at the benefits of insulating a shed.
What are the Benefits of Insulating a Shed?
Looking after your shed does not only mean keeping it tidy. If you want your shed to last long, to do the job it's intended for and then some, then it's recommended that you insulate using spray foam insulation. Here are some of the top benefits of insulating a shed:
Regulated Temperature
Your shed can better fulfil its purpose when it's insulated effectively. If you are using your shed for storage, then installing spray foam insulation will allow you to better control its temperature, hence ensuring the contents are better protected too. Better yet, if you use your shed as an office, children's play space, or to practice certain hobbies, insulating your shed with spray foam insulation will provide you with a more comfortable area.
Better Air Quality
If you spend a lot of time in your shed, it's important that you have healthy indoor air quality. It's no secret that sheds can be stuffy, dusty, damp and a bit unhygienic - not exactly the ideal place to spend your time. Spray foam insulation for sheds can turn this on its head by providing better air quality. This is because spray foam insulation prevents the passing of pollutants, dust, toxins, or any other unwanted contaminants. Practice your crafts in peace, exercise without worry, or just access the contents of your shed knowing that it's in good condition.
Sound-Proofing
If you're going to be playing music, or perhaps even making music of your own, then soundproofing will come in particularly useful. Make sure you don't disturb the neighbours or surrounding houses by properly insulating your shed with spray-foam.
Increased Value
Another one of the benefits of insulating a shed is that it can increase the value of your property. When you insulate your shed, you are effectively making it an extension of your home, meaning that you have more space to occupy and utilise. As a result, the value of your home increases too.
Quick & Easy Installation
Spray foam insulation is one of the quickest and easiest insulants to install into properties. You can have efficient shed insulation in no time at all. Due to its rapidly expanding features (up to 100x expansion) it can cover all the nooks and crannies with complete ease.
Eco Spray Foam Insulation for Sheds
If you're looking for more information on eco spray foam insulation for sheds, then you can contact us today by using the contact form, or give us a call directly on 0203 411 5188. Installing spray foam insulation will add value to your property, create a better environment, and give you more control over the space. Installation is quick and simple too, so what are you waiting for? Give us a call to get started today.