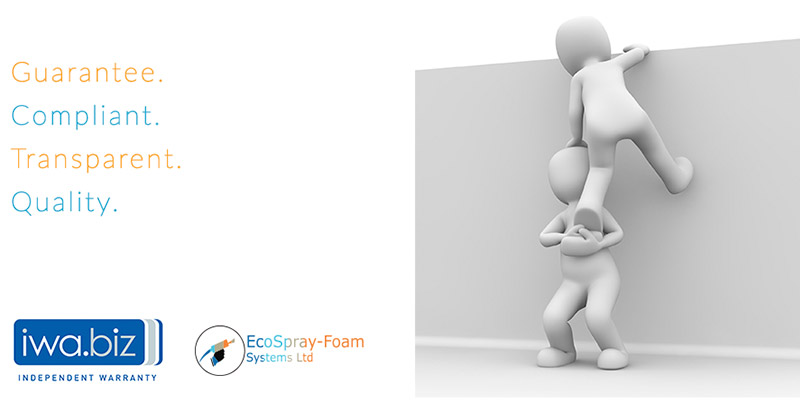 Guarantee, Compliant and Protected – Eco Spray Foam Systems
Customer satisfaction lies in the heart of our business, we want to make sure that we don't just provide a quality service, but we want to provide a great customer experience. Eco Spray Foam Systems prides itself on the relationships we build with our customers and that is why we can provide you protection through an investment guarantee for your insulation installments. When you work with us, we take all your worries and concerns away, providing optimum solutions for given problems, not just in our work, but throughout the whole journey with each individual customer.
Guarantees for Customer Satisfaction
Eco Spray Foam Systems has teamed up with IWA the UKs leading providers for deposit and guarantee insurance, because we want to create a healthy relationship with our clients, providing transparency, security and, of course, high quality work. We understand the process of transforming a house through installations, turning a house into a home, it can become stressful, tiring and confusing at times, but Eco Spray Foam Systems has got you covered. Investing into the future of your home can become extensive, therefore, we want to build up a strong foundation with our clients and part is providing an Insurance Backed Guarantee (IBG).
IBG will protect your investments into your home from unpredictability's. Our cover for our clients specialises in the home improvement industry in order for us to provide you with the utmost protection and compliance. We know that we provide a quality service, but we want to go the extra mile for every customer, providing that safety net in case of hard times, providing a robust guarantee so you can see your home transform stress free.
Peace of Mind
Fully relax in the knowledge that we can take care of your insulation and installation requirements and, furthermore, provide the financial support and deposit insurance that can ease your mind. High quality doesn't have to be expensive, that's why we offer a quality service, a positive relationship, complete transparency and very cost-efficient prices.
"Excellent efficient service, arrived on time and completed the job to an exceptional standard, would definitely recommend this company." – Greater London