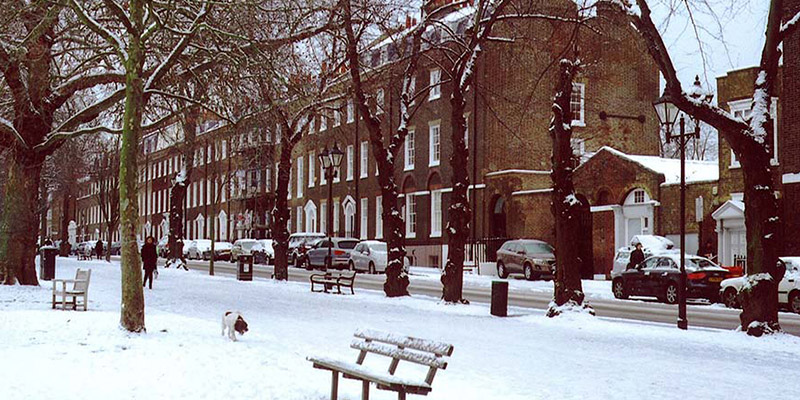 London Home Insulation: Prepare for the UKs Coldest Winter
With weather polarising year on year, summers getting hotter and winters becoming colder, what can the everyday UK citizen do to prepare? London home insulation is a popular service, especially amidst polarising weather, but how can it actually help you? The met office's verdict of the UKs 2019/2020 winter is proclaiming that Britain will have the coldest winter in 50 years. Every UK resident understands the impact of cold winters, the short darkening days, cold mornings and the typically hefty heating bills every month. Eco Spray Foam Systems wants to help you prepare for the winter, in a sustainable, cost-effective way. We've been providing London home insulation for years, creating a great number of happy residents who can now feel secure through the UKs coldest winters.
The Miracle of Insulation
Now more than ever, London home insulation is extremely important. No matter if you live alone, as a couple or a family, everyone needs to make sure that their health and happiness is adhered to, and through insulation, you can achieve just that. We provide an expert home insulation service, using the latest and most advanced insulating materials such as Icynene spray foam. This spray foam is prepared to insulate all areas of a house, whether that may be your attic, walls, cavity wall, floors and more. Our spray foam insulation solution can reach every nook and cranny in your house, providing the perfect insulation for those cold winter nights.
With multiple insulating options to choose from, our closed cell Icynene spray foam insulation is a favoured product. It provides one of the best thermal values on the market, to make sure heat is contained within your house, prevents water and moisture, which in turn, prevents mold growth. This form of insulation is robust, dense and perfect to resist against extreme temperatures. UKs coldest winter in 50 years will not influence your residential home if it has been insulated using our Icynene spray foam solution.
Saving Money with Insulation
Most of the time, when London home insulation is mentioned, pricing and costs are what hits people's minds first. Well what if you can actually make money from insulating your home? If you opt for our Icynene spray foam insulation service, you will potentially start to see a return on your investment within 3 years. By having your home insulated with our products it will reduce the need for the use of central heating throughout winter, especially as Britain heads for the coldest winter in 50 years. Additionally, energy bills are likely to increase, as they always do, with such cold winters and a reliance on central heating to increase.
Nonetheless, with spray foam insulation your London home insulation can start cutting your bills up to 50% per month! This is a perfect solution to keep your house warm in winter and your bills low. Icynene spray foam insulation typically lasts up to a lifetime of a house, therefore, after you reach break-even with your investment in home insulation, the money you save on your heating bills is generating profit from your initial investment. We believe in long-term sustainable and cost-effective solutions for every household. Turn your house into a home with our state-of-the-art spray foam insulation materials.
Eco Friendly Insulation
The inevitably rising temperatures in summer and decreasing temperatures in winter could be direct causes of global warming and environmental impacts. Therefore, you may think using insulating materials might be damaging for the environment. However, we use completely sustainable products, 100% air blown without the need for any toxic and harmful gases. Icynene spray foam complies with international health standards and even helped to shape the European standard for insulation, containing no gases, fibres or asbestos.
Furthermore, as you will using less central heating each winter, your energy consumption is lower, reducing your overall carbon footprint. In addition to aiding the global environment, your internal home air quality will also be bolstered. The spray foam insulant prevents the passing of pollutants, dust, dirt and other unwarranted toxins, thereby creating a home insulated for better living and/or working conditions.
The Eco Spray Foam System Way
Eco Spray Foam Systems aims to aid all homeowners, to create your perfect home, at reasonable and affordable prices. The seriousness of harsh weather is not to be underestimated, the UK is to expect snowfall before the end of the month (October) and for it to continue into November and December. Additionally, Exacta Weather's James Madden supports the claim of the UKs coldest winter in 50 years "While these could start to make an impact within the next few weeks they will be particularly troublesome from December onwards."
Contact us today and receive expert advice and quotations on insulating your London home. From sustainability and cost-effectiveness to warmer homes, we want to give the best to each of our clients.