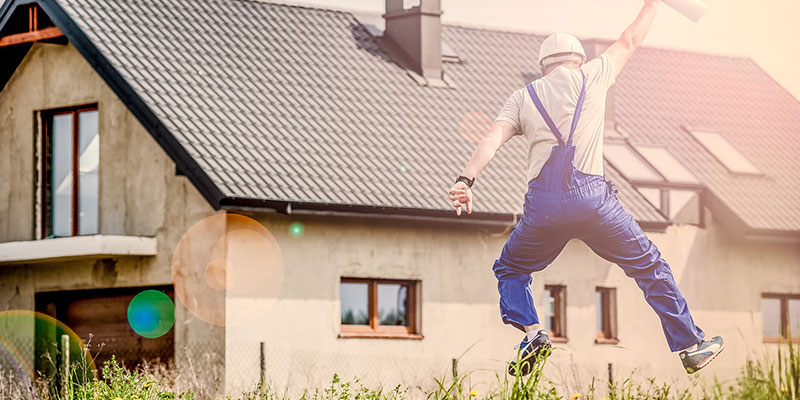 New Build Regulations for Insulation
When you involve yourself in a project such as a new build, it is important to adhere to and comply with certain new build regulations for insulation. You have to conform to certain standards and regulations in order to properly complete your new build project. Importantly, there are insulation regulations for new builds across different areas of your build. For example, there are different insulation regulations for walls, cavity walls, flat roofs, pitched roofs, loft insulation, floor insulation and more. Therefore, in order to fully comply with new build regulations, your project must meet standards across all types of insulations on your new build. Abiding by a minimum level of thermal insulation, by using the 'U-Value' to measure, is one of the main factors that you must consider when starting your new build project. The UK government has set standards that differ across each country, from England to Scotland, Wales and Northern Ireland, you must make sure that your new dwelling insulation meets the criteria of which the project resides in.
What is a U-Value?
The reason why new build regulations differ depending on the type of application of insulation, from wall to roof, is due to measuring the heat loss effect. The U-Value essentially measures heat loss in these various elements of a new dwelling and minimum standards have been set that new builds must comply with. Therefore, the U-Value is a measure of the transference of heat, the higher the U-Value the worse thermal performance there is, and a low U-Value indicated a high level of insulation. U-Values are measured in W/m²K.
Types of New Build Insulation Regulations
As previously mentioned, different applications of insulation in different areas require a certain level of thermal insulation, a certain maximum U-Value. Below exemplifies the levels of U-Values necessary for various insulation applications.
Loft Insulation

Typically, when insulation your loft, you want to aim for a maximum U-Value standard of 0.20.

Pitched roofs also require a maximum U-Value standard of 0.13, notice the difference between a pitched roof and a flat roof.

Flat roofs new build regulations are the same as the pitched roof above, asking for a maximum U-Value of 0.13.

The regulations for new build wall ask for a maximum of 0.18 (not to be confused with a cavity wall).

Cavity walls generally differ from internal walls for new build insulation regulations. Cavity walls ask for a maximum of 0.30 in order to comply with government standards.

Our last example, floor insulation, in new dwellings, ask for a maximum U-Value of 0.13, a regulation that must be complied with in new builds.
It is important to note that new build regulations for insulation do vary with not just the different countries of the United Kingdom, but also the type of dwelling. New builds and existing builds have different regulations. Domestic and non-domestic dwellings have different standards of regulations and also refurbishments and extensions have their own set of insulation regulations. The aforementioned information is strictly referring to new builds/dwellings that reside in England.
U-Value Summary for Types of New Build Areas
| New Build Areas | Thermal U-Value (W/m²·K) |
| --- | --- |
| Loft | 0.20 |
| Pitched Roof | 0.13 |
| Flat Roof | 0.13 |
| Wall | 0.18 |
| Cavity Wall | 0.30 |
| Floor | 0.13 |
New Build Insulation - Concluding Thoughts
Eco Spray Foam Systems Ltd is an approved new dwelling insulation installer, with expertise in cavity walls, roofs, lofts, floors and more. Our product quality meets government regulations for new builds and you can rest in the knowledge that our team of experts can properly insulate your new build with full transparency and trust in the final outcome. Additionally, we have received accreditation and certification from respected institutions such as the Cavity Wall Guarantee Agency (CIGA) the National Insulation Association (NIA), KIWA approved, Icynene approved, BBA certified and more. As a company with instil trust into our customers and provide a first-class insulation service to help your make sure that your new build project is completed to the level it should be, including meeting all necessary regulations. If you need any advice or further insights about new build regulations for insulation, contact our staff today at info@sprayfoam.co.uk or simply drop us a message on our live chat.