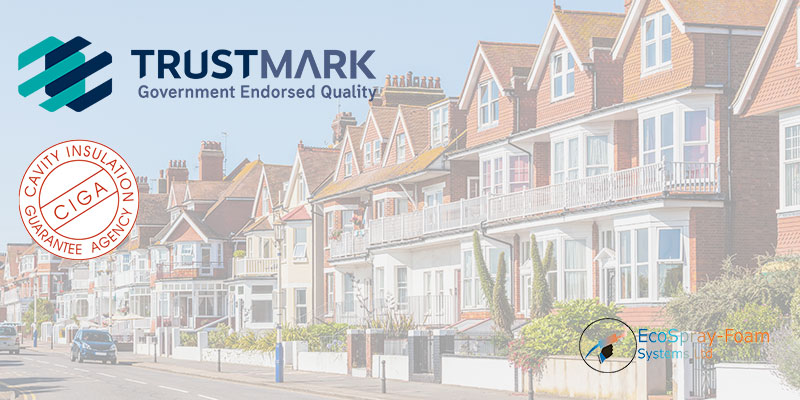 SPRAY FOAM COMPANY ACCREDITED WITH CIGA AND TRUSTMARK RECOGNITION
Eco Spray Foam Systems has been given the respected accreditations from the Cavity Insulation Guarantee Agency (CIGA) and TrustMark, government endorsed quality. CIGA in an independent body in which their members must follow high standards of competence, technical guidance and materials used in their cavity wall insulations. Homeowners can be comfortable in the knowledge that companies trusted with CIGA are registered and are compliant with building regulations and standards. Additionally, receiving certification by TrustMark provides customers with the peace of mind that the company they are dealing with have been thoroughly vetted and have made a considerable commitment to great customer service, trading practices and technical competence.
"We [Eco Spray Foam Systems] are continually aiming to provide a high-quality service for our customers, while simultaneously issuing them with the trust and customer-service they deserve. These certifications from the Cavity Insulation Guarantee Agency and TrustMark are a result of our continuous efforts to establish customer care and a bespoke insulation service across the United Kingdom."
Eco Spray Foam Systems is an experienced home and commercial insulation provider, creating customer satisfaction across the United Kingdom. They are located in London, Kent, Manchester and Essex and have built a reputation based on trust, transparency and quality work. The CIGA and TrustMark accolades are a great addition to their current certified status from the likes of the National Insulation Association (NIA), CHAS, KIWA, BBA and more. You can check out more information about Eco Spray Foam Systems at www.sprayfoam.co.uk.
See our TrustMark business profile here: www.trustmark.org.uk/firms/ECO-SPRAY-FOAM-SYSTEMS-LTD-1911003/HAROLD-WOOD-25164