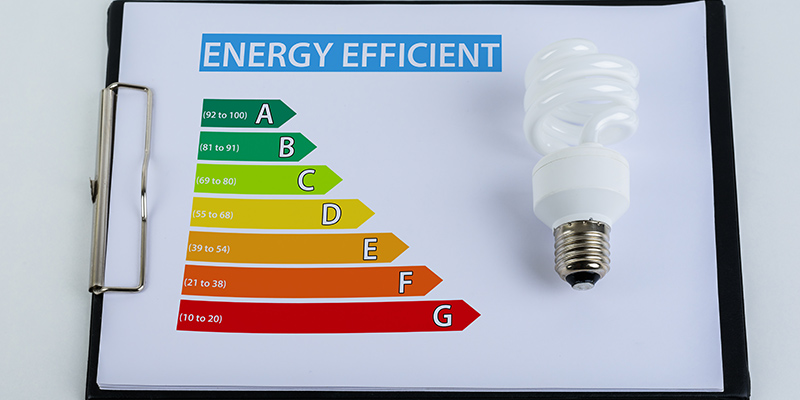 Energy Performance Certificate – What you need to know
Let us dive into the world of Energy Performance Certificates (EPC), what they are and why you need one. Over the last decade there has been a major growth and a fight for sustainable values across all industries and areas in the UK. The construction and insulation industry are no different, as of 2018 residential properties require a minimum rating of E on their Energy Performance Certificate. An EPC is, however, not limited to residential homeowners, but extends to commercial properties. In a global fight to ensure a more sustainable world, Energy Performance Certificates help property owners assess the eco-friendliness of their build, which can help direct for more sustainable measures.
What is an Energy Performance Certificate?
An Energy Performance Certificate, commonly known as an EPC, is a document (4 pages) that lays out the energy efficiency of your commercial or residential property using a specific traffic light system of ratings from A to G (A being the most energy efficient). An EPC acts a detailed guideline, signifying how much it will cost to heat and power a commercial or residential property. Additionally, Energy Performance Certificates also provide recommendations and suggestions as to where you can improve in your energy efficiency, the cost factor of this and, moreover, the potential saving that each recommendation could have. Therefore, having an EPC is not only a necessity but extremely beneficial for property owners.
Energy Performance Certificate for Homeowners
As mentioned above, from 2018 set legal standards for residential landlords to ensure and maintain an energy efficiency standard of at least an E rating on their EPC. When a property is rented, sold or built, you will require an energy performance certificate. Importantly, if you do not have an EPC you may be at risk of getting a fine of up to £5,000. Once you have attained your EPC, it will remain valid for a period of 10 years.
Energy Performance Certificate for Commercial Properties
In addition to needing an EPC for residential properties, commercial buildings are also required. If you are a commercial property owner, you must have an EPC if you plan to rent or sell the premise or for any building under construction that is completed. Similar to residential regulations, you may be fined if you fail to provide an Energy Performance Certificate from £500-£5,000 (dependent on rateable value of the property). However, unlike residential properties, if you own a commercial building you may also have to display your EPC by fixing it to your commercial building, if and only if the following applies to you:

• Total floor area exceeds 500sqm.
• The building is visited frequently by the public.
• An EPC has already been produced for the building's construction, sale or rental.
Check out our recent article on how to improve your homes EPC rating.
Similar to the residential regulations, a commercial EPC is also valid for a period of 10 years.
When do you not need an EPC?
There are some special cases and circumstances when applying for an Energy Performance Certificate is not necessary. For example, buildings that will be used for less than 2 years, places of worship, buildings that are standalone and have less than 50sqm floorspace, buildings pending demolishment, industrial sites and workshops, residential buildings used less than 4 months per year and holiday accommodation that is rented out for less than 4 months a year. However, if you are unsure, we recommend consulting an industry expert over your EPC concerns. With over 20 years of experience, we can provide a professional consultation via email at info@sprayfoam.co.uk
How can you get an Energy Performance Certificate?
Attaining an EPC is a simple method, you must contact a capable assessor, such as Eco Spray Foam Systems, who has the capabilities and authority to provide such a document. Your assessor must hold the correct accreditation to provide you with a valid Energy Performance Certificate. We offer a simple form to fill out that will put you in touch with our professionals about getting you a valid and legitimate EPC, just visit www.sprayfoam.co.uk/epc-request.html and fill out the request form for your Energy Performance Certificate and we will take care of the rest.