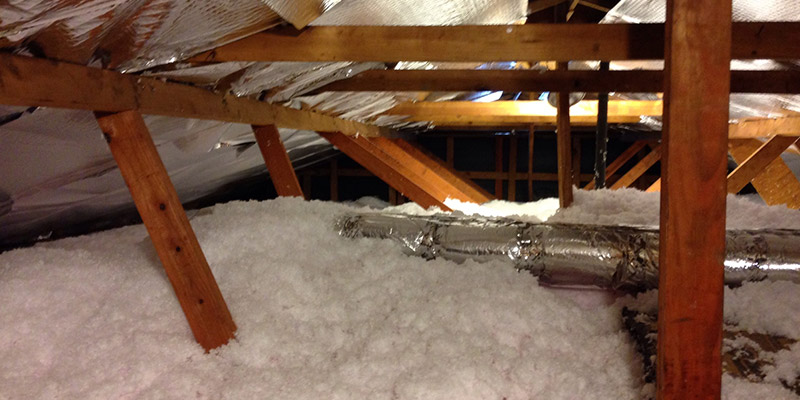 What is Blown-In Loft Insulation?
Loft insulation is one of the most important areas in your home that you can insulate. Due to heat rising, your loft acts as a significant factor in heat loss and energy-loss, via your roof. Therefore, insulation may be your best solution. When enquiring about insulation, you will come across many types, materials and terminology, which can be overwhelming, therefore, we are here to provide you with answers to what you are looking for. One option you may be likely to consider is blown-in loft insulation.
Understanding Blown-In Insulation
Unlike some common forms of insulation, such as insulation rolls and batts, blown-in insulation is a loose-fill product, which can be a lot more cost-effective than other types of insulation application. To have your loft insulation blown-in, simply means, as suggested that instead of your insulation being laid out in pre-cut blocks, slab, rolls and more, it is freely and loosely blown into the area required.
Why do you need Blown-In Loft Insulation?
Loft insulation, at any level, can help combat against cold winters and provide a more comfortable internal home environment. Blown-in insulation can create a warmer home by providing effective insulation in your loft.
Lofts are typically a bit messy and contain lots of nooks and crannies, therefore, by using a blown-in solution, it provides a flexible insulation application to your loft, that allows insulation to cover all areas. Moreover, if, for whatever reason, your loft requires maintenance and repairs, blown-in insulation can be easily moved out the way and has the flexibility to be moved, until you have finalised with fixing your loft space. After, you can freely move the insulation back where it belongs, keeping your home cool in the summer periods and warm across winter.
What are the Benefits of Blown-In Loft Insulation?
1. Comfortable
When you invest in this form of insulation, your house or property will become a lot more comfortable all year round. The loose-fill insulation will limit heat flow, creating a more comfortable environment, no matter the outside weather.
2. Save Money
Blown-in insulation provides an increased efficiency of heat transfer and regulation, what does this mean? By having loft insulation, you will rely less on energy bills, using energy to both cool down your home and to heat it up will be reduced. Saving not only energy and reducing your carbon footprint but also saving you money on your energy bills, every month.
3. Prevent Growths
By insulating your loft with loose-fill blown-in insulation you also reduce the formation of mould and bacterial growths. Additionally, if you live in colder areas where your property is subject to ice damns and icicles, proper loft insulation can reduce this form, by having a warmer, more insulated roof and loft space.
Types of Blown-In Loft Insulation
1. Cellulose Insulation
Cellulose is a very traditional insulant that is composed of recycled materials and often treated with fire retardant and mould blockers. Due to the composition and material of cellulose insulation, it is easily blown-in and can help fills and properly insulate your loft space. Providing many benefits for your home.
2. Fibreglass Insulation
Alternatively, you can opt in for fibreglass insulation, which is another good blown-in insulant for insulating lofts. Fibreglass consists of thin glass strands which form a very fine and flexible material. Fibreglass is also commonly used in blankets or batt forms, however, using its blown-in form, the insulant is chopped into smaller pieces in order to travel via a hose for installation.
Home Insulation is a Must
Home insulation is a must-have for all homeowners, especially loft insulation. Your loft is one of the most susceptible places for heat loss and, by having it effectively insulated, you can be sure to save money, reduce your carbon footprint and create a more comfortable living standard. If you are interested in loft insulation or the use of blown-in insulation then you can contact us today for advice and you can even book a free consultation, our experts will recommend the best insulants for you to use and how you can best meet your desired goals. Call us directly on 0203 411 5188 or head on over to our contact page and send us an email.